Looking Over the Ledge...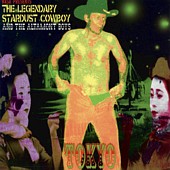 "You didn't actually pay money for that, did you?"
"Is that friggin Howard Dean"? "What the hell is that shit"? Sheena asked her cooking companion as he put on the '45 proudly sourced over at
Babel Books & Music
on Ossington. "AAAHHHHH! Turn that crap off!"
Yeah, so maybe David Bowie ripped off the "Stardust" part from him, maybe he's the Godfather of Psychobilly, maybe
T-Bone Burnett
guest drummed, but that doesn't make it good...