Maxed Out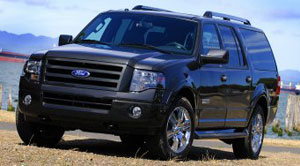 Sheena has not owned a car since Spring 2006 and is quite pleased to continue in this current state of affairs. She rents, at least once a month, for both work and pleasure, usually from Avis, where they love her and kiss her pretty little feet every time she traipses down the jetway, with the privilege to skip the lineups intended for the unwashed and with frequent unrequested upgrades to lure her into the kind of longterm exclusive commitment she has yet to bestow on any man.
This weekend, however, they overstepped. A simple request for a utility vehicle for a weekend of hauling and carrying and loading of all and sundry awkward and often dirty bulky things turned into a jaw dropping string of expletives as she saw her name card attached to
this monstrosity
The Ford Expedition "MAX":
Fuel Tank Capacity (L) 106L

CO2 EMISSIONS
Expedition XLT
No data available at the moment.

FUEL CONSUMPTION
Expedition XLT
No data available at the moment.
I drove around ashamed all weekend. Sitting alone in a house when pulled up beside a Smart Car. Able to crush the Vespa with one ill timed door open.
After using 2/3rds of a tank, and watching the gas pump hit the $80 mark and still keep flowing, suddenly the smell of gas turned to the stench of death and I imagined the dozens of litres of blood I had just consumed and Sheena felt sick.