Fair and Balanced News Coverage
The one non-culinary thing I'll miss about Argentina is
TV Cronica
, or as we called it, the Protest Channel. All day, all night. In that bad Hull-Radio echo chamber announcing style, any and all highway carnage, bloody fistfights and community announcements all blended into a rapid-fire stream of latin consciousness. Trucks on fire immediately followed by medical students storming the faculty building, with a special May Day programming directe from the Plaza de Mayo.
Whether it was late night or morning in the hotel room, early evening hanging out at a bar, or even walking down a shopping plaza and coming across a helado joint with a TV screen surrounded by locals on a break; we found it impossible to avert our eyes. And it's not just focused on the issues challenging the BA metropolis.
Nope, stealing a page from the Batman style of "POW-BOOM-KABLAM" style of text explanations, it's like Fox News meets
low budget cable access TV
in a Marvel Comics news studio. The home-made graphics, excitable commentators and wide range of topics ranging from the grotesque to the mundane keep citizens glued to this open eye on their world.
If the medium is the message, then the next revolution will be instigated by Earl Camembert.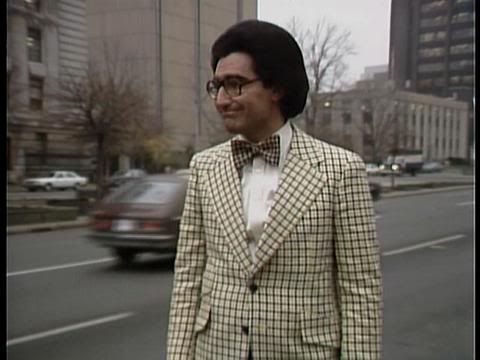 I wish we had one here.
See more screen captures
over here
.